At Usabilla we heavily emphasize the safe-being of your account and your valuable customer feedback. Of course, you use a hard-to-guess password to shelter your account. However, our 2-step authentication adds another layer of protection.
What is 2-step authentication?
Once 2-step authentication is enabled, Usabilla will require a six-digit security code from Google Authenticator in addition to your password whenever you sign in. This code is generated straight from your mobile phone or another designated device and adds your phone to the 'Are you really you?' question. This helps you to keep your account safe if someone finds out your password. 2-Step authentication is optional but highly recommended.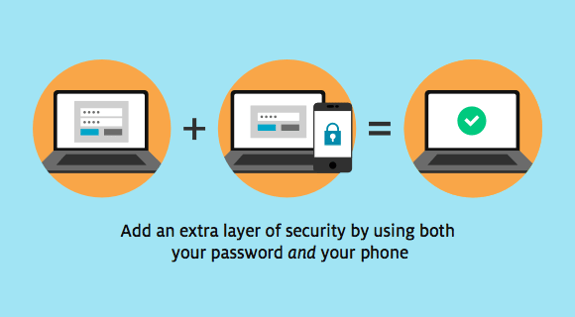 Enabling 2-step authentication
Enabling the 2-step authentication for your Usabilla account requires the following three actions:
Download and install Google Authenticator
Enable 2-step authentication in your Usabilla account. 
Test your 2-step authentication and enjoy the extra safe feeling.
1. Download and install Google Authenticator
Make sure you have the Google Authenticator app on your phone by downloading it from the App Store or Google Play store. You can skip this step if you already have the app. 
2. Enable 2-step authentication in your Usabilla account. 
Log in to your account and navigate to Account Settings and then to the Security tab. Here you can click set up 2-step verification. Now you will be asked to re-enter your password.
In the next screen, you can click I've installed the app. The subsequent screen will ask you to scan a QR code or enter a code manually in Google Authenticator. This will verify Google Authenticator on your phone. 
Now you can select a backup option. If you do not choose a backup option you will not be able to access your account anymore should you lose your phone or when Google Authenticator is erased from your phone. Therefore this is highly recommended. You can use both backup options. In case you select the backup codes you will receive a backup file with ten codes. You can enter each of these codes only once, instead of the code that you would normally receive via Google Authenticator.
Tip: We recommend you to print your backup codes and delete them from your computer and keep them in a safe place. That way you can easily recover your account if you lose your computer and/or phone.
3. Test your 2-step authentication and enjoy the extra safe feeling.
If you now log out, by clicking your name in the top-right corner and selecting 'Sign-out', and log in again you will first be asked for your password as usual. Then you will be asked for a Google Authenticator code. Open the app to find the code and fill this in on your computer. Each code remains valid for thirty seconds. 
Now your Usabilla account is only accessible with your password and the use of your phone, thus protected from password theft. When logging in you can, however, select the option to "remember this device for 30 days" if you prefer to not use the 2-step authentication every time you log in.